I hope, pray and wish that 2021 is YOUR year.
...a year of majestic productivity and positivity.
...a year that you grow as a person and let go of past limitations.
...a year that you laugh more laughter, get even fitter and slow down to enjoy life's simple graces.
I have a very calibrated method to plan each of my New Years. And I take planning very seriously because clarity of strategy is the golden key to focused performance.
I wanted to take you into one of my work rooms so you get a visual of what my 2021 game plan looks like: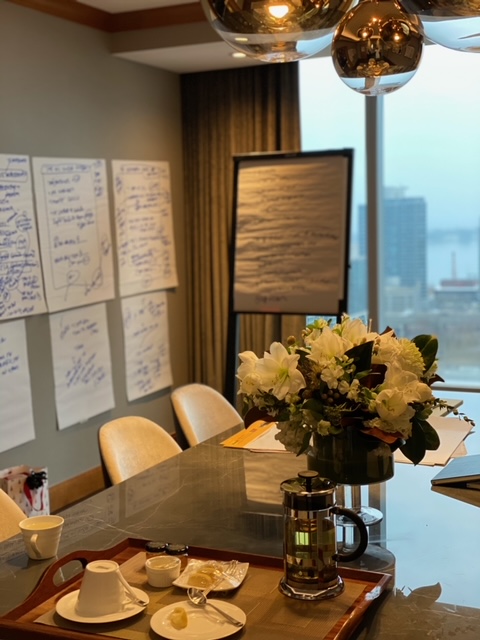 Yes, I have my mint tea with fresh ginger. And an easel to think on paper. And sheets on the walls to write out all my dreams and deliverables.
Here are my 5 steps:
#1: Record the single most important project that you absolutely must deliver on in the new year. This is your Mighty Mission for 2021. Forget about trying to make 100 things happen. Just produce one outright masterpiece and amazing blessings will unfold.
#2: Note your five central personal values. Happiness and elite productivity appears when you work and live under your own terms and standards.
#3: Set your three most essential goals for the key dimensions of your life (personal growth, family, work, fitness, financial, spiritual etc.).
#4: Build out each quarter of 2021 by setting ten deliverables for every three month block so you reverse-engineer your ideal 2021.
#5: Schedule time blocks for your deliverables and action steps on your month-to-month calendar.
Please give yourself a full day in isolation to do this. Your results of the next year will confirm this decision is worth it.
And if you want 2021 to be the finest year of your life yet, do not miss the beautiful opportunity below...
IMPORTANT: Given the overwhelming demand for an online learning program based on The 5AM Club which was one of the bestselling books in the world in 2020, I took a break from writing my new book and locked myself in my studio for many many days and recorded a life-changing virtual course called The 5AM Club Method...
...this very special program is for learners who wish to go FAR deeper than the book into the methodology and tactics that create a morning routine that will make you a master producer who makes 2021 the finest year of your life yet.
...the value of this powerful training course on how the superstars install strong habits is truly enormous, yet I'm making a limited number of memberships available for only $37.
Here are all of the details on The 5AM Club Method...
You're absolutely going to love the depth, richness and transformational value of this powerful new online system so definitely get one of the limited memberships here before they are gone.
And please allow me to wish you and your loved ones an amazing and healthy and productive and soulful 2021.
Love + respect,
Robin
P.S. Here are the full details to The 5AM Club Method, my life-changing new online course.