Over the past few years I've been going through deep change.
...I've been shifting away from worldly pursuits to even more silent devotion to my craft as a writer. I'm accepting far less high-profile speaking engagements, doing far fewer media appearances and spending far more time in the solitude of my creative passion. I'm falling in love with the writer's life. I rise, exercise, get my coffee and start writing. It's a quiet, simple, austere and artistic existence. At this stage of my life (nearing 60), I find it perfect.
...I've gone to new levels in my personal growth and spiritual healing, reclaiming strengths that I'd lost and knowledge that I've long wished for. I've moved through many layers of trapped pain of the past, released stuck insecurities and continue to awaken the relationship with my higher self. The ride hasn't been easy. But it sure has been worth it.
...I've intensified my dedication to service and doing whatever I can do to make lives better for my brothers and sisters on this planet going through so much turmoil. What I do each day is driven by an immense need to help human beings regain their power to make their lives beautiful. I don't need to work as hard as I do. But I do because I think it makes a difference.
You likely know I'm writing a new book. It should be out in a while. I can see the finish line.
I started it in Tribeca last February. I've worked on it for many hours nearly daily since then.
All of the emotions and uncertainty activated by the pandemic served to make the work more intimate, more vulnerable, more transformational.
"Chaos gives birth to dancing stars," said Nietzsche.
This new book is unlike anything I've ever created.
It's a strange and contrarian and hopefully exceedingly valuable offering. Part memoir, part manual on supreme productivity and part handbook on spiritual mastery.
I'm a little scared that this book might fail.
Yet I must honor where the writing has taken me. And The Muse has guided me.
It's a very different book from The 5AM Club, that's for sure [by the way, if you are ready to make 2021 the single greatest year of your life yet—no matter what the world is going through—I strongly recommend that you snap up a membership in my revolutionary online course The 5AM Club Method. It's the digital program everyone's talking about! And it really really really works. I'm giving it to you at a stunningly great introductory price so make the choice that will change your life by getting your access here before registration closes].
Anyhoo, here's a photo of the scene in one of my writing rooms as I go through this round of the manuscript for the new book: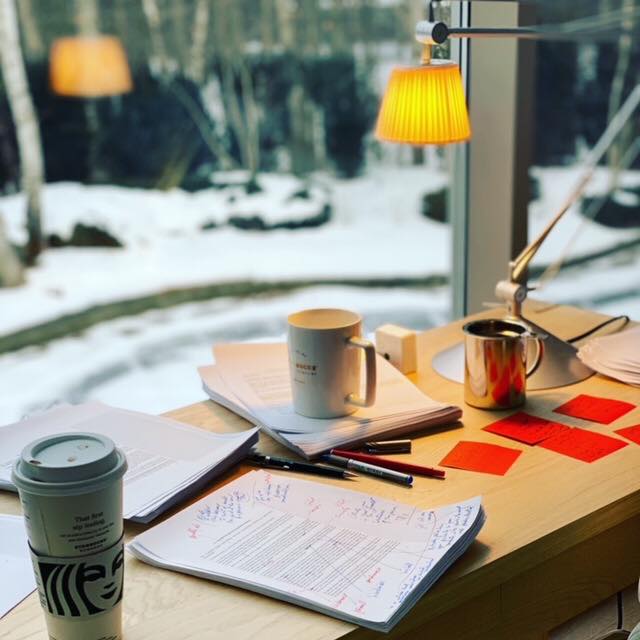 This feels, at times, like it could be my last book.
And then, on days when the writing goes super well, it seems like I may have many more in me.
Honestly, only the higher angels of my greater fate know what lies ahead.
Who knows how long we are blessed to do what we are privileged to do, right?
I guess what I'm trying to say is that I'm working hard to make this book amazing for you.
And that life is magical and fragile and difficult and splendid. So use yours well. Please.
...I pray that you trust the leadings of your creative genius rather than get caught by the grip of fear.
...And that you don't hold back when a precious opportunity presents itself.
...And that you go ahead when you feel like stopping. Or surrendering.
...And that you enjoy each day's bounty versus always be hunting for more.
...And that you hold those you love even more tightly as society grows more volatile.
...And that you do your part to be a force of decency, bravery and value in the world.
We all need you to shine. We all need you to rise. We all need you at your best.
I'm here to help you get there. Count on me.
Love + respect always,
Robin
P.S. After months and months of readers of The 5AM Club asking (relentlessly!) for a top-grade online program that would teach advanced insights, strategies and tactics for accelerated positivity, productivity and serenity via the morning routine many of the world's most successful people use I created The 5AM Club Method.
I worked super hard to put fresh and uncommonly powerful ideas and techniques into the training system and ensure the whole thing was recorded beautifully and structured optimally for peak adult learning.
Kindly note:
—this truly remarkable digital course offers you hours of world-class training and takes you well beyond what you learned in The 5AM Club book that so many people around the world have fallen in love with. [If you haven't read the book you'll still be blown away by this course].
—unlike many of my online programs that are designed for top CEOs and senior entrepreneurs, The 5AM Club Method has been carefully handcrafted for any human being who honestly wants to experience greater happiness, fitness, productivity and prosperity within a relatively short period of time.
—the modules contain science-based information that has been proven to cause revolutions of growth and performance for professional athletes, famous leaders, financial titans and movement-makers.
—this is not a course for dabblers or people who want a magic pill formula for a world-class life through an extraordinary morning routine. If you seek superficial information and basic mentoring this training isn't for you.
—this remarkable new program is being offered at the astonishing introductory price of $37 [versus the intended retail price of $495] because I want everyone to be able to discover and apply the life-changing information right now. [That's about the cost of a few cups of coffee; for a digital program that I predict will change the game for you].
—every single one of the memberships offered recently in the beta launch have completely sold out and the price may go up to the intended $495 retail price at any time.
Snap up one of the very limited memberships available for only $37 here before they are gone.
So get off the fence and claim your membership into a truly beautiful and transformational digital course that will help you own your genius and get amazing feats done.
Hope this helps you very much. Thank you for your faith in my work.
Speak soon.