In these interesting times we inhabit, each of us bears the responsibility to do all we can to protect our strength and hope, right?
I know this sentiment is unorthodox in a culture that encourages us to blame all outside of us for the way we think, feel and operate.
It's ever so easy to blame the pandemic and blame the economy and blame adversity for any challenges we face versus remembering that human beings have the power to rise above anything life decides to send us.
As you know if you've been following my work these past few years, a fireproofed morning routine is THE golden key to consistently positive, productive and energetic days.
Now, the formulas I share in The 5AM Club are just the beginning—what I call "MVMR" in my mentoring work with many of the world's most successful people: Minimum Viable Morning Routine.
I recall having coffee with a genuine tycoon who told me he was most financially triumphant when he ran a three hour morning routine designed to grow his mindset, fitness, wisdom and character.
Here's a photo from my journal on my current/upgraded morning routine [sorry for my messy writing yet it's real]: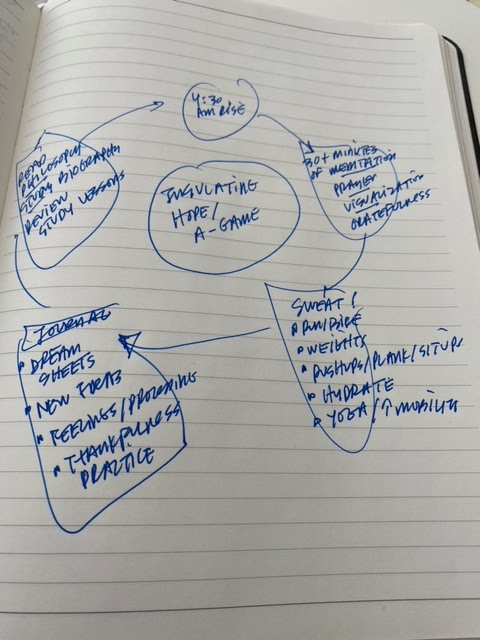 if you'd like to get "insider access" to the neuroscience, methodology and tactics of a truly world-class morning routine so you maximize your genius and activate high success in these very messy times, definitely snap up one of the few memberships left to my new online training program The 5AM Club Method here. Registration is about to close.
Based on my #1 worldwide bestseller The 5AM Club, this remarkably effective virtual transformation program will walk you through advanced strategies for starting your day beautifully so:
—your positivity soars in the face of negativity and turbulence
—you x3 your current grade of productivity
—you feel stronger and more peaceful than you have in ages
—your finest energy, fitness and vitality awakens
I've placed an ironclad no-questions asked 100% money-back guarantee on The 5AM Club Method because I believe so much in the program and the value it will bring to your days. So you have ZERO risk and everything to gain.
Oh, and the introductory price will blow your mind! A fantastic online learning program and a tiny price!
Claim one of the few memberships remaining here.
Last thing: the manuscript of my new book has been submitted to my publisher HarperCollins. It'll be out over the coming months. It's like nothing I've ever done and I pray it does amazing things for you.
Hope all this helps and I'll see you on the inside of the course so we can start getting your mornings to world-class today.
Kindest wishes,
Robin