What a year 2020 has been!
Yet, great light follows the dark night...
...I have a sense that while 2021 will come with volatility, it will ultimately be a wonderful year.
For those who choose to make it so. [I know this prediction is unusual in an era when so many love to talk about things getting even worse; don't listen to them—you can make 2021 amazing, if you think the right thoughts, encode the right habits and then make the wise moves].
I'll be sending you a list of the best lessons this year taught me in a while yet for now I simply wanted to connect.
SORRY! I haven't sent you many messages over the past few months because I've been in lockdown finishing my new book. It has consumed me. Fully.
Here's a photo while creating one of the iterations of the manuscript (the book will be out in 2021 and is part memoir, part elite productivity playbook and part manual for substantial spiritual transformation):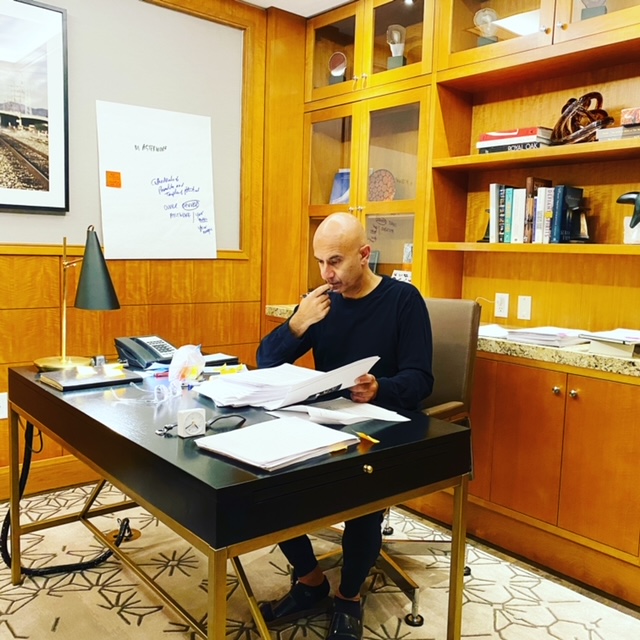 So...
...may I suggest that you take whatever happened over this year and use it as fuel for your greater wisdom, artistry and spiritual power.
...I encourage you to ponder how 2020 can be used as a platform for quantum leaps in your growth, output and impact in 2021.
...I invite you to begin holding your loved ones even tighter, making your ethical ambitions even grander and becoming like the phoenix, who rises from the ashes.
...I applaud you for remembering that karma is real, your good intentions matter and marvellous things happen to marvellous people. Always.
And I celebrate you for making it through 2020, perhaps more bruised and somewhat scarred, yet stronger and even better than you were (even if you cannot detect your increased toughness—when you're inside the bottle you can't read the contents on the label, right?).
If I may, I'd also like to challenge you with a few final pushes...
...forgive those who you still haven't forgiven. The energy you are giving them is costing you your creative fortune.
...install a fantastic morning routine that sets you up for a massively enthusiastic, healthy and productive day. You don't have to read The 5AM Club if learning how to get up early is not of interest to you. Just encode some sort of a positive routine to follow whenever you choose to rise. Please.
...turn off the news and spend more time improving those things within your control.
...start thinking a lot about giant goals for 2021 so there's no room for daily worries within your system.
...take some time to slow down, regenerate and rest as we end this year. We all have suffered trauma due to the pandemic, whether that's personally or collectively.
...do something good for someone in need before 2020 is done. You'll raise their spirits. Along with your own.
Ok. That's it for now. I'll be in touch soon.
Stand strong. Remain optimistic. Grow your wisdom. Insulate your hope!
Love + respect,
Robin