Here are 21 of the biggest causes of low-grade productivity. I offer you this list so you can consider them and then avoid them at this early point of a new year that I very much wish will be your greatest year yet.
1. Negative early life conditioning.
2. Poor sleep hygiene.
3. Low-quality nutrition.
4. Toxic media influences.
5. Improper willpower recovery.
6. Association with naysayers.
7. No calibrated fitness routine.
8. Lack of a mighty mission.
9. Arrogance driven by success.
10. Addiction to distraction.
11. Too much entertainment.
12. Too little learning.
13. An uninspiring work area.
14. Few daily written goals.
15. Mediocre self-worth.
16. Attraction to the past.
17. Little time alone.
18. Busy versus effective.
19. Irregular relief from stress.
20. No celebration of micro-wins.
21. A reactive morning routine.
To unlock further value for you, here's a raw and quick video [I'm in the forest right after a snowfall] where I share The 3 Best Actions to Take for a Phenomenal 2021. Definitely commit to doing these three activities for excellent results!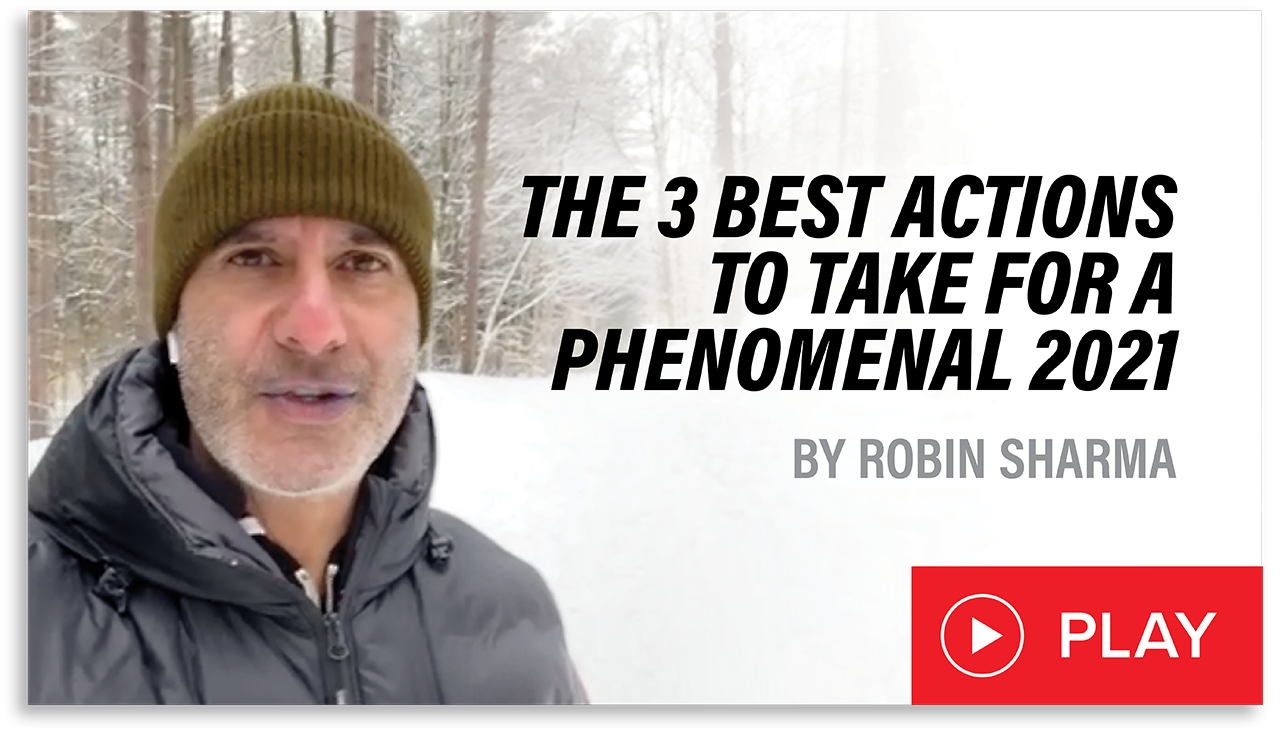 Hope all of this content I create for you with sincere enthusiasm helps you upgrade your game in 2021. Regardless of what anyone tells you, this really can be the finest year of your life yet. If you choose to do the right things.
Love + respect,
Robin
P.S. VALUABLE NOTICE: Something else I think you'll find really really valuable...
...after months and months of readers of The 5AM Club asking (relentlessly!) for a top-grade online program that would teach advanced insights, strategies and tactics for accelerated positivity, productivity and serenity via the morning routine many of the world's most successful people use I created The 5AM Club Method.
I worked super hard to put fresh and uncommonly powerful ideas and techniques into the training system and ensure the whole thing was recorded beautifully and structured optimally for peak adult learning.
Kindly note:
—this truly remarkable digital course offers you hours of world-class training and takes you well beyond what you learned in The 5AM Club book that so many people around the world have fallen in love with. [If you haven't read the book you'll still be blown away by this course].
—unlike many of my online programs that are designed for top CEOs and senior entrepreneurs, The 5AM Club Method has been carefully handcrafted for any human being who honestly wants to experience greater happiness, fitness, productivity and prosperity within a relatively short period of time.
—the modules contain science-based information that has been proven to cause revolutions of growth and performance for professionals athletes, famous leaders, financial titans and movement-makers.
—this is not a course for dabblers or people who want a magic pill formula for a world-class life through an extraordinary morning routine. If you seek superficial information and basic mentoring this training isn't for you.
—this remarkable new program is being offered at the astonishing introductory price of $37 [versus the intended retail price of $495] because I want everyone to be able to discover and apply the life-changing information right now. [That's about the cost of a few cups of coffee for a digital program that I predict will change the game for you].
—every single one of the memberships offered recently in the beta launch have completely sold out and the price may go up to the intended $495 retail price at any time.
Snap up one of the very limited memberships available for only $37 here before they are gone.
So get off the fence and claim your membership into a truly beautiful and transformational digital course that will help you own your genius and get amazing feats done.
All green lights + be great.