Hope you're splendid! In an enthusiastic effort to help you get 2021 off to an amazing start I recorded a 9 minute video sharing some of my best ideas on how the world's most successful people install their habits.
If you watch only one new video this month make it this one as it's full of strong and proven information on elite habit installation.
Go ahead and watch the training video here before it comes down: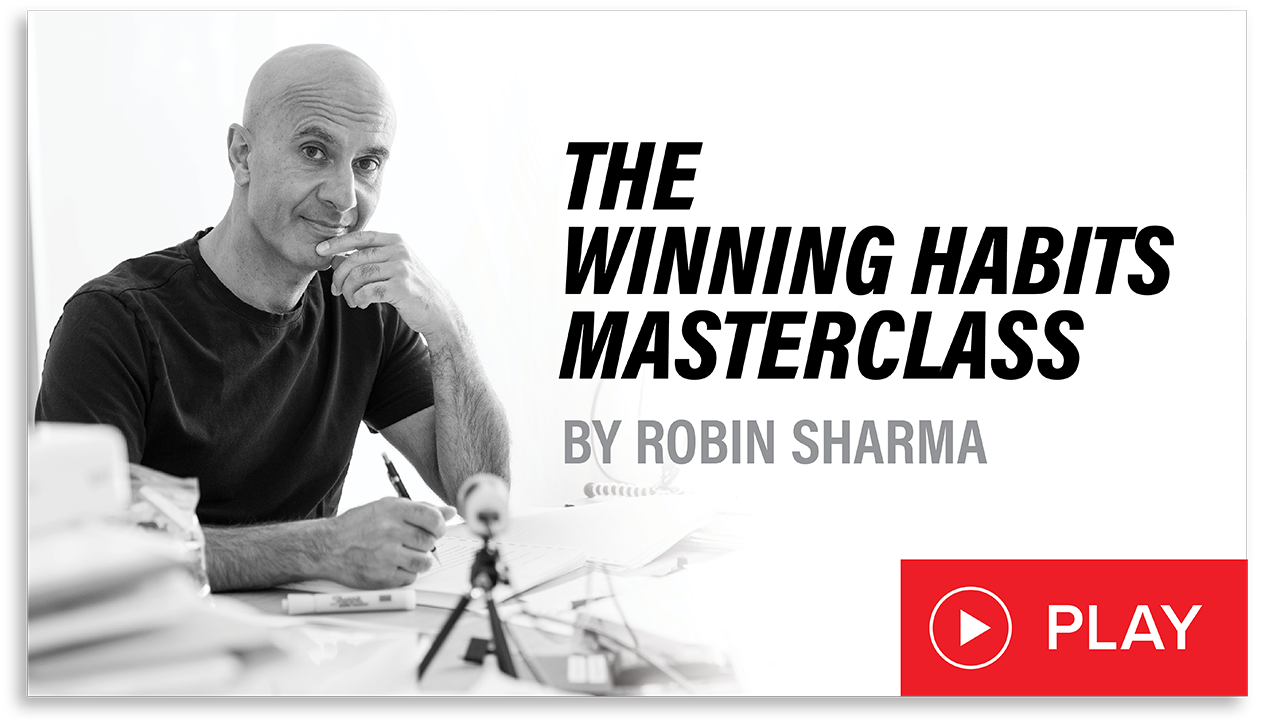 Oh. Something else I think you'll find really really valuable...
...I recently locked myself away for two weeks in a studio. I work best in solitary confinement.
...I flew in a top-flight video crew who quarantined for 14 days before the shoot (God bless them).
...for day after day after day I pushed myself to share my best and newest information on the morning routines of superstars, the mechanisms for installing world-class habits and the tools for revolutionizing the way you think, produce and live. So you remake yourself into a master, early this new year.
...we recorded many hours of extremely powerful training backed up with teaching frameworks that will truly help any human being radically transform.
...my team then took all of the video footage and painstakingly made it into a straightforward yet stunning new online program called The 5AM Club Method that is definitely one of the finest digital courses in the world. If you loved the book, you'll adore the course (if you haven't read the book the course will still be a game-changer).
...the system is priceless (for those who are willing to watch it and then do some work). Seriously rich and excellent content. Worth many thousands of dollars. At the very least.
...yet, to intensely reward those who take action, ensure as many people as possible are helped and to help you make 2021 legendary, I've decided to offer the entire program for ONLY $37 [for a very limited time].
I know this is pretty shocking...
...That's about the cost of a few good cups of coffee. For training that will change the way your entire life looks.
I just wanted to do something super special for you. So you win in 2021!
So definitely snap up one of the remaining memberships here before my team closes registration and you totally miss out on this chance of a lifetime.
Hope this helps! Please make 2021 the year you own your genius, beat your fears and live life the way you've always dreamed of doing it.
Get your membership here before you can't.
With love + respect,
Robin
P.S. Yes it's true! You can claim your membership for my extraordinary new online course—The 5AM Club Method—for just $37 (limited time only).
The program comes with an ironclad 100% money-back guarantee if you don't love it so why wouldn't you do this. You have everything to gain.
Snap up your membership here and I'll see you in the program so we can get started right away.
All green lights + be great.